¿Qué es la NVC?
Our goal is to bring companion animal veterinary medicine to a high professional level.
---
THE CONFERENCE STRUCTURE
The NVC program covers the most relevant practical and theoretical veterinary medicine aspects.
We have changed the approach to systematization of the theoretical part, making it more flexible and convenient for the participants.
Since 2018, the level of complexity has been assigned not to the stream in general, but to each specific speech.
The practical part of NVC includes master classes, traditionally conducted on the days preceding and following the main program.
Let's Start, Baby!
A FEW WORDS FROM THE ORGANIZERS
SERGEY MENDOZA
Founder of the Belyi Klyk veterinary clinic
ELENA KADOCHNIKOVA
Director of the Colibri veterinary center
ANDREI KOMOLOV
President of the Society of Veterinary Cardiology
Some figures from our conference
The best Russian and foreign veterinary professionals, managers and employees of leading veterinary clinics and laboratories come to Moscow to take part in NVC.
Our speakers
Kerstin Bergvall
DVM
Specialist in dermatology, Diplomate of European College of Veterinary Dermatology.
Reinhard Mischke
DVM, PhD, DipECVIM-CA
Professor at University of Veterinary Medicine Hannover (Germany), Diplomate ECVIM-CA, an expert in haematology.
Lisa Radosta
DVM
A board certified veterinary behaviorist.
Ekaterina Kuznetsova
DVM, Dip.ECVD
Assistant professor of Dermatology in Cummings School of Veterinary Medicine, Tufts University, North Grafton, Massachusetts 01536, USA.
Margie Scherk
DVM DipABVP
Specialist in feline practice.
>
Andrey Komolov

Head of Cardiology Department network of clinics "White Fang", Moscow. President of the Veterinary Society of Cardiology.
Olga Syatkovskaya
DVM
Founder and President of the Estonian Society of Physicians felinology Veterinary Center of Haabersti, Tallinn, Estonia
SPONSORS
A large-scale event like our conference is. We highly appreciate the continued support of our partners.
---
DAYS UNTIL NVC 2019
The National Veterinary Conference 2019 will take place from 16 to 18 October. Traditionally, the Conference will be held in the CROCUS-EXPO International Exhibition Center, Moscow.
WHAT CAN WE OFFER?
Organizers of the Conference are veterinary practitioners. We chose our profession because we had always cared for the animals and their health.
BEST VENUE FOR EVENTS IN RUSSIA
CROCUS-EXPO International Exhibition Center is the largest and most promising exhibition center in Russia.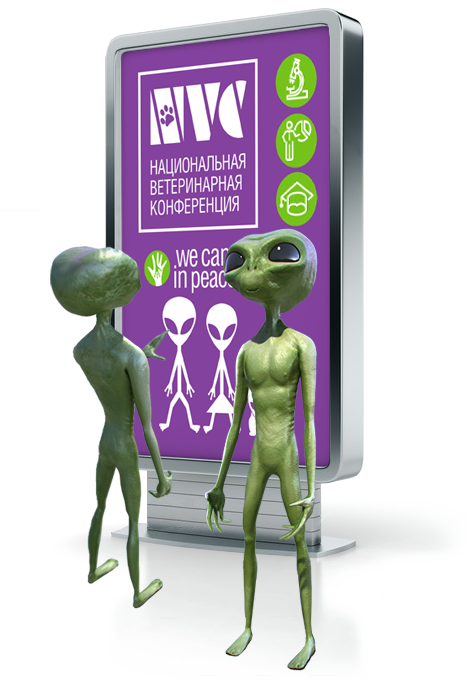 LEADING INTERNATIONAL SPEAKERS
Renowned international and Russian sreakers will take part in NVC2018.
SPONSOR PROGRAM
We thank the companies that support NVC – you provide help to all veterinary practitioners in Russia.